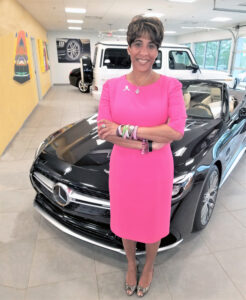 Jenell Ross successfully leads the Bob Ross Auto Group, which include Mercedes-Benz, Buick and GMC dealerships, following in the footsteps of her parents the late Robert P. Ross, Sr. and Norma J. Ross. Bob Ross Auto Group was the first African-American owned Mercedes-Benz dealer in the world and today, Jenell Ross is the country's only second-generation African-American woman owned auto dealer. Under her leadership, Bob Ross Auto Group has ranked as a leader in sales and customer service for each of its three brands. Jenell has also served on several boards ranging from the local community to the international level including the automotive business, Federal Reserve Bank, minority business and beyond.
Just as her father and mother were pioneers in the automobile industry as the first African-Americans in the world to purchase a Mercedes-Benz dealership, Jenell followed in their footsteps and continues to rise as community leader and philanthropist. Her love for her family, customers and community has led her to form the Norma J. Ross Memorial Foundation in honor of her mother who she lost to breast cancer. The foundation hosts a number of events to raise support including a signature "Walk" and annual "Golf Outing" that attract golfers from all over the world. The foundation provides education and awareness to breast cancer and to breast health, to help those who are not in the position to pay for cancer screenings and mammograms and offers financial assistance for those along their journey and for aftercare. Events and activities proudly branded as "Pink Ribbon Driven" are one sure way to know when Jenell and the many foundation advocates are hard at work to support this cause.
One of Jenell's many charitable causes is United Way of the Greater Dayton Area where she serves as a member of our esteemed Tocqueville Society. She is active in helping the organization to inform and communicate our message to donors who share her philanthropic enthusiasm. She is engaged in helping us to develop support for our Strong Families Initiative and Prosperi-Key Digital Marketplace that provides resources, services and supports to working families who may not qualify for other forms of assistance.
While there is much more to say about Jenell Ross that will not fit in this presentation, she is one awesome African-American who will continue to break barriers and inspire others to make a difference in our community and the world. We want to take this opportunity during Black History Month to illuminate a phenomenal selfless, giving, and loving person who is engaged in making a positive difference in everything she does.