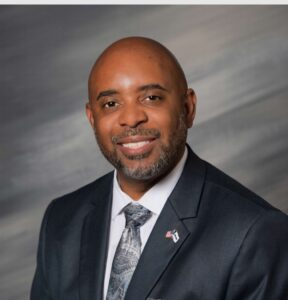 Carl Kennebrew proudly serves as the International President of the IUE-CWA, an organization representing over 40,000 manufacturing workers across the country. He was elected as the first African-American President of IUE-CWA in 2019 and serves as Vice President on the national Executive Board of the Communications Workers of America (CWA). Carl has been a member of IUE-CWA for over 25 years, having started as a manufacturing worker at the Chrysler facility in Dayton, Ohio.
In addition to fighting for workers' rights, Carl is a member of the Board of Directors of United Way of the Greater Dayton Area and is passionate about being an active member of his community. Commensurate with United Way's mission to Lead a United Community to Uplift Our Neighbors, Carl is engaged in youth and workforce development, which has been his primary areas of focus.  After serving as a youth mentor with the Launch Dayton Leadership Academy, Carl saw the need for a pipeline for students to build careers in manufacturing. Since then, he has been working with Dayton region schools to provide training and access to manufacturing careers for students.  He also serves on a number of workforce development groups, including the Greater Ohio Workforce Board and the Workforce Investment Board of Montgomery County.  In recognition of his work in the community, Carl was humbled to receive the Dayton Top 10 African American Male award in 2018.  Carl obtained his Life Coach Certification through Fowler Wainwright International Institute of Professional Coaching and is a John Maxwell Certified Leadership Trainer and Mediator. He is also a man of family and faith, with his wife Shamica and their three children. Carl and Shamica are active members of Revival Center Ministries, where Carl serves as a minister.
Carl also serves on a number of local, regional, and national boards, including Dayton Metro Library, AFL-CIO Industrial Unions Council, Jobs to Move America (JMA), the Union Sportsmen's Alliance, and CO-OP Dayton, a non-profit organization founded in 2016 to develop cooperative businesses like The Gem City Market, a community and worker-owned co-op grocery store built from the ground up in West Dayton. He is grateful to be able to contribute to causes of justice, both locally and nationally, through his work in these organizations.