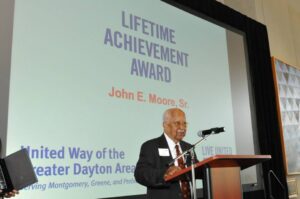 John E. Moore, Sr. was the first Equal Employment Opportunity officer at Wright-Patterson Air Force Base in 1960 and later was the first African-American chief of civilian personnel in 1972. Many African-American professionals can attest to his advocacy to provide equal opportunity employment for all.
He was a longtime community volunteer, Moore's leadership affected numerous organizations in the region such as Sinclair College, The Mentoring Collaborative, The Urban League and United Way of the Greater Dayton Area (UWGDA) was fortunate to be one of those institutions. John served on UWGDA's Board of Trustees for many years and the first African-American to serve as the Board Chair for FY 1983 and 1984.
UWGDA's highest award each year is the Smith Moore award, in honor of Fred Smith and John E. Moore Sr. who both served as Board Chairs. This award is given to those that go above and beyond to bring about positive outcomes for individuals and families in our community. Mr. Moore graciously agreed to allow UWGDA to establish a giving society, the John Moore Society, to raise dollars to support summer learning for students in grades 1-8 through the CDF Freedom Schools model. The John Moore Society, chaired by Helen Jones Kelly and Tom Kelly, has raised over 1.5 million dollars. These funds have made it possible to serve 3,000 scholars through UWGDA's literacy-based Freedom Schools.
While attending a 2018 Freedom Schools Breakfast event, John shared that "he was happy to lend his name and support to the academic growth for our students. In an interview on WYSO, John shared that one of the ways in which he was able to effectively facilitate challenging conversations was "to always remember to be the last one in the room to get angry." John E. Moore Sr. leaves a legacy of positive change for us all as we honor his life and contributions. United Way of the Greater Dayton Area will remember Mr. Moore for his leadership, civility, strong character, and lifelong compassion and commitment to the African-American and greater Dayton communities. He was always an active donor, John gave his gifts to the United Way without restrictions, as he knew they would go where they were need the most in the community. A fife well lived and a legacy remembered and honored.