Nick Eddy
Manager, Volunteer Connection
SUMMER IS COMING – Hello, and I hope everyone is doing well! After fits and starts, Volunteer Connection is again placing great volunteers with our terrific agencies with more regularity. At this typing, masks are off/optional at most of our regular spots – so nice to see COMPLETE faces. No kidding, as masks came off it felt like a party! We are organizing events and making linkages for Global Youth Service Day in April and plans are coalescing for Day of Action in June … all contingent on state of the virus, as ever. But it's all looking good!
MIAMI VALLEY MEALS – The amazing team at MVM has opportunities! Wednesdays are food prep days (chopping, mixing ingredients) and Mon, Tues, Thur, Fri are meal packing days (scooping ingredients into the trays & packaging them). They hope to incorporate shifts for our NEW garden later this spring/summer, and will occasionally need help for special events. Stay tuned for that! They currently have shifts available for MARCH and APRIL, on WEEKDAYS from 10am-2pm; email taylor@miamivalleymeals.org for instructions on signing up.
XENIA FISH NOW GREENE COUNTY FISH FOOD PANTRY – Xenia Fish Food Pantry has changed their name to Greene County Fish Pantry, to better convey the whole of their service area. This is an exciting spot full of ENERGY! Gail and her team are absolutely unstoppable in their mission (and, no, she didn't tell me to say that)! Great spot for groups or individual volunteers. Go here (https://www.xeniafishfoodpantry.org/volunteer/) and sign up!''
CLOTHES THAT WORK – Yes, you want to volunteer here. Client coaching (helping folks train for interviews, etc)? Running a workshop? Helping with inventory or in their amazing boutique? So much great work gets done and it all helps local families get back into the work force. Contact Suzy at suzy.harris@clothesthatwork.org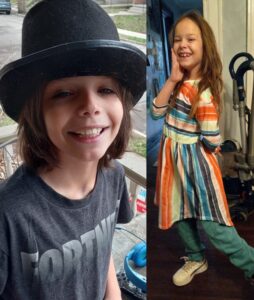 THESE TWO: For those new to Nick's News, for the seven (!) years I've been here, I have included pictures of my kids Rafe and Bea as they have grown up. 10 and 7 now! Good grief.