Dear United Way Family,
Spring is the time we look back at what all our donors, partners, and volunteers have accomplished in the past year and think about all we must do to finish up the current fiscal year and prepare for the new one.
Part of that reflection is the awarding of recognition to the committee volunteers, board members, and outstanding community leaders who have worked to build Strong Families in our region. I hope you will join me at our upcoming virtual Big Thanks on April 27 where we celebrate all these accomplishments and more. As an award presenter, I am excited to participate and recognize my fellow leaders' talents, dedication, and inspiration in their drive to create a region abundant with opportunities.
We are proud of our home but not blind to our challenges. The Miami Valley is amid a battle with generational poverty. Inequity is creating barriers to education, employment, and essential quality-of-life opportunities. The pride we share for the Greater Dayton area is forged with the steadfast determination to unleash the potential within our citizens and communities.
UNITED we will empower our region's transformation through philanthropic support. Our gifts will continue to support Strong Families' two-generational approach to secure economic assets, increase educational achievement, and build social capital – because everyone deserves a safe home.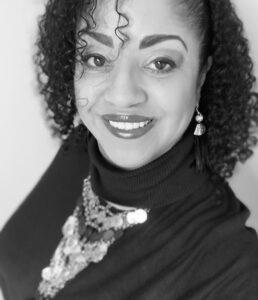 Kenya Taylor, Donor Relations Council (DRC) Chair
Vice President
Regional Corporate Responsibility/Community Relations Officer
Cincinnati, Columbus and Dayton
KeyBank