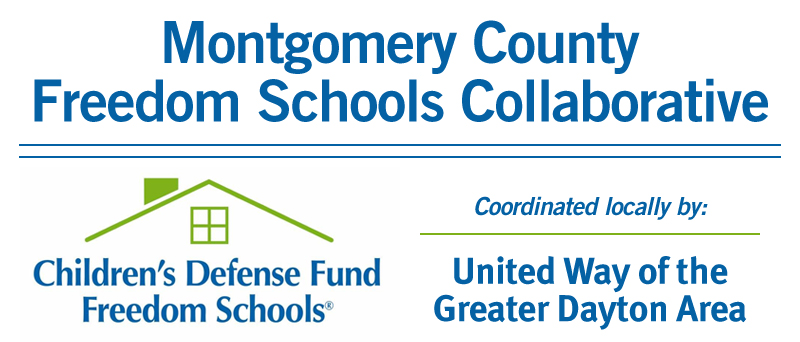 Freedom Schools is a six week summer literacy program at no cost to families. Applications go quickly, so please contact your desired site in advance to know the exact time of release. Before and after care are not provided.
Transportation may be provided at Northridge, Westwood, and Fairview. Please ask the site contact for details.
 UPDATE ALL SLOTS ARE FULL, PLEASE CONTACT SITES TO JOIN THE WAIT LIST!
Boys & Girls Club of Dayton (completed K-8)
1828 W Stewart St, Dayton
Contact Katee Moon
DECA Prep (priority given to DECA students, completed K-5)
200 Homewood Ave, Dayton
Contact Jahi Henderson
jahenderson@daytonearlycollege.org
Fairview PreK-6 by Omega CDC (priority given to DPS students, completed K-8)
2314 Elsmere Ave, Dayton
Contact Dormetria Thompson
Grace United Methodist Church (completed K-8)
1001 Harvard Blvd, Dayton
Contact Debra Humphrey
Northridge High Schools (priority given to Northridge students, completed K-2)
2251 Timber Ln, Dayton
Contact Todd Petty
Westwood PreK-6 (priority given to DPS students, completed K-8)
2805 Oakridge Dr, Dayton
Contact Vanessa Mosley-Kimball